OUR WINNIPEG PRIVATE DINING AND PARTY ROOMS
For an exclusive gathering, book one of the private dining rooms at Bailey's Restaurant & Lounge. For parties, family gatherings and intimate meetings of friends and loved ones, our dining and party rooms have provided the beautiful backdrop for many a memorable night. Contact us  about booking one of our themed private dining rooms.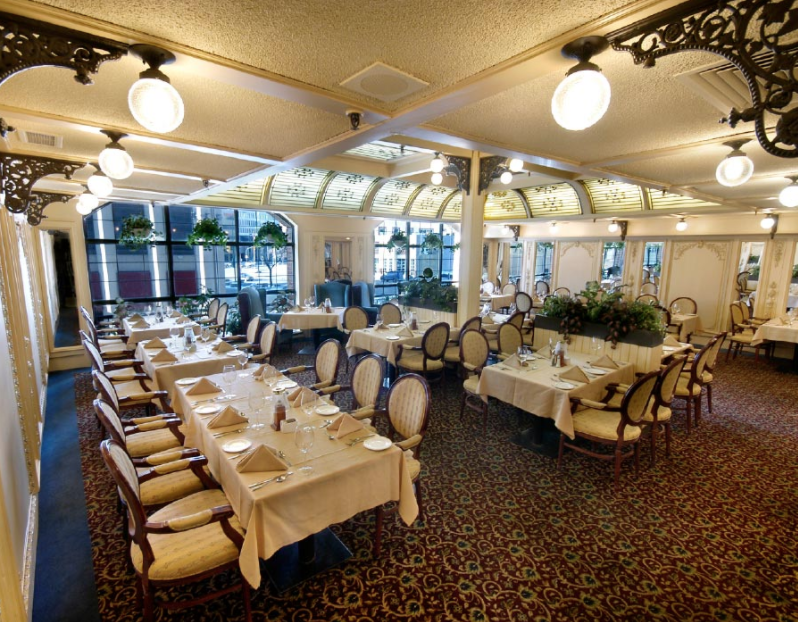 The Winter Garden Room
Hints of Louis the XIV's court, subtle influences from 19th century New Orleans, and voilà – our Winter Garden Room is a visual journey back in time. Set against the backdrop of historic Portage and Main, the Winter Garden is a window into the heart Winnipeg. Whether for an intimate dining experience or a celebration of many, our Winter Garden Room is a dining experience not to be missed. Bon appétit!
CAPACITY: 40 TO 70
The Board of Governors Room
Stalwartly British and eminently private, our Board of Governors Room replicates a 19th-century board room, setting the scene for dignified dining. Atop Bailey's grand staircase, memorable family affairs, corporate meetings, intimate engagement and retirement parties and sumptuous holiday feasts have graced this fine chamber. If stately, old world elegance is your cup of tea, reserve the sought-after hospitality of our renowned Board of Governors Room. Rule Britannia!
CAPACITY: 20 TO 40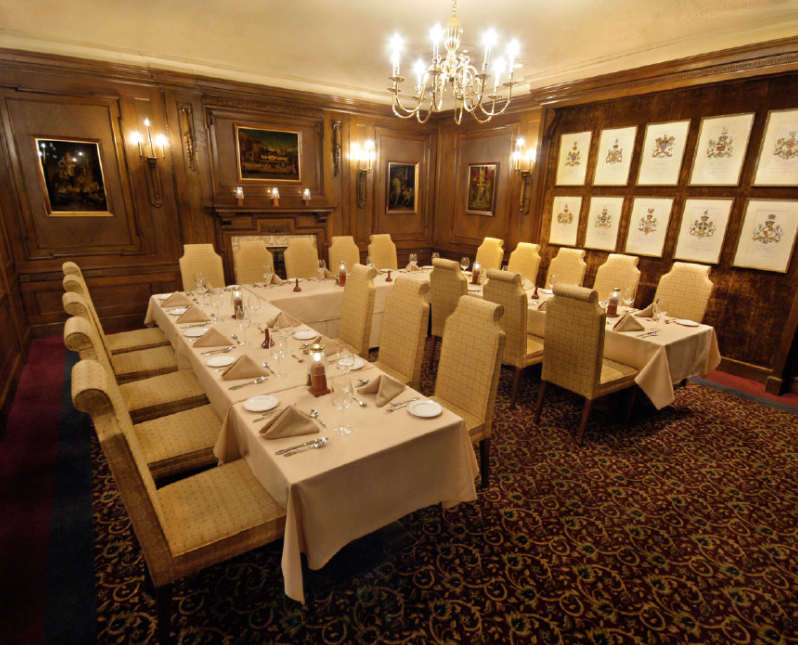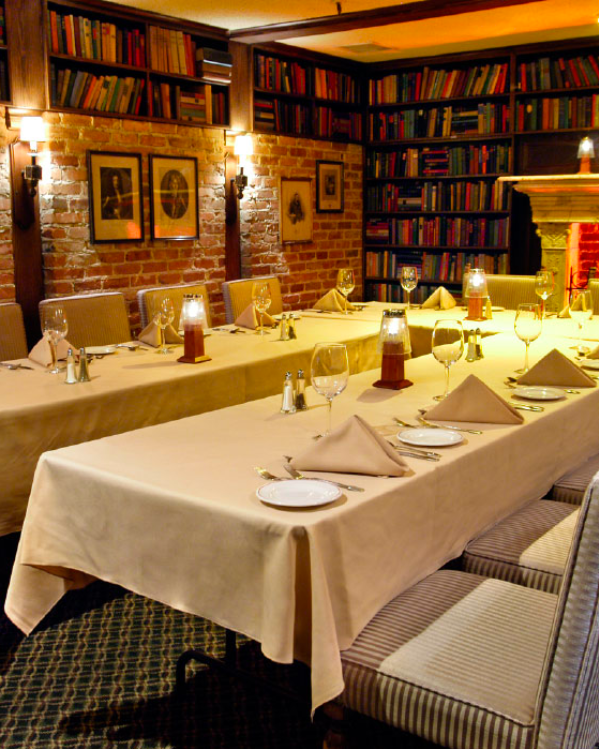 The Library Room
A secret retreat reminiscent of social privilege in a bygone era, the Library is a room unlike any other in Winnipeg. Volumes penned by authors long since passed grace ancient brick walls that suggest the existence of hidden portals to Winnipeg's cavernous underground. Gracious servers slip silently in and out of the Library's private surroundings to preside over gatherings of up to 25. Refreshments and tasty appetizers complement sumptuous dinners and lunches. Whether for business meetings or family gatherings, the Library's guests seem to relax the moment they step into its calming environment. Come, exhale and enjoy.
CAPACITY: 10 TO 25
Oliver's Dining Room
If the walls could talk, they would confide nervous marriage proposals and tearful acceptances, contract proposals and signatures on dotted lines, anniversaries, gracious weddings, joyful reunions and affirmations of culinary pleasures. Generous hospitality is yours in our signature dining room, diligently preserved to reflect the splendor of its turn-of-the-century construction. Does time magically slow to a more leisurely pace within these walls? Yes, it does.
CAPACITY: 70 TO 110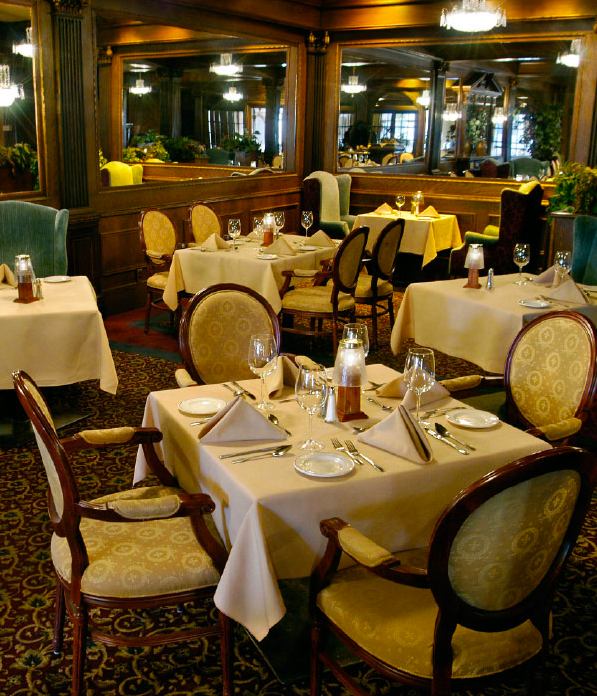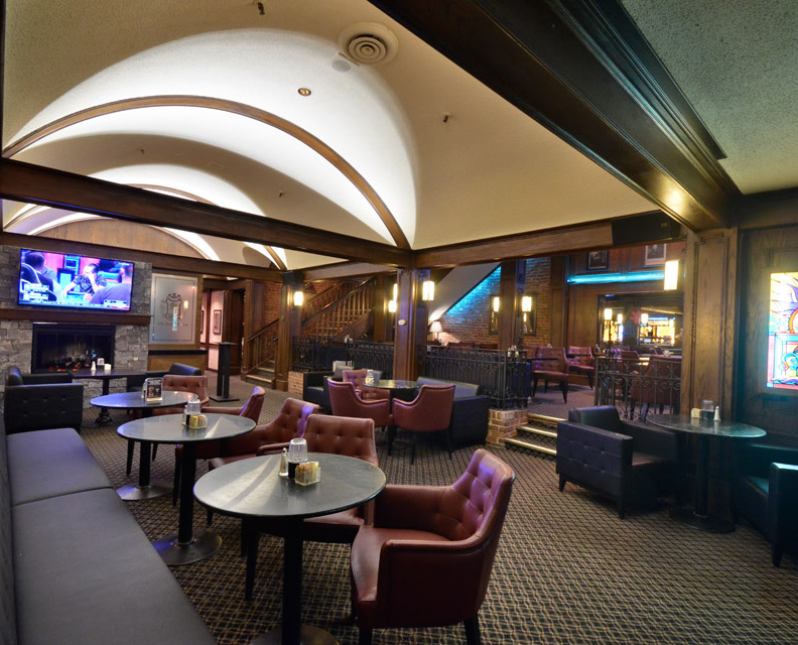 Lounge
Cater your next business or family event in Bailey's Lounge – what a wonderful idea! Reserve an intimate corner of our charming room or reserve the entire lounge. You can depend on Bailey's professional hosts to help you plan a deliciously memorable function. From hors d'oeuvres and drinks to multi-course meals – from our generous menu or customized to satisfy your creative imagination – the cuisine, the setting and the service are memorably Bailey's; the flattering reviews from friends and colleagues are entirely yours.
CAPACITY: UP TO 125
LET US WELCOME YOU
Enjoy food, drinks and entertainment in our stately, century-old building.